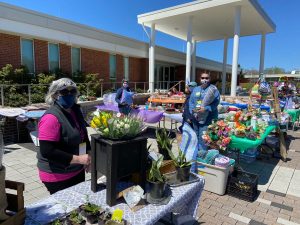 This month, the community of East Hampton, Connecticut held two fundraising events to support Team Ryan's Shine a Light on TANGO2 campaign!
The first event was at Po's Rice and Spice in the historic district of East Hampton. Guests enjoyed delicious and innovative Thai dishes while supporting Ryan, an East Hampton native, who was born with TANGO2 disease. A portion of the day's sales went to the Foundation. The owner, Po, was so impressed with the community support that she matched the donation raising a total of $2,472.22!
Then a few days later, there was a craft and vendor fair at East Hampton High School. Nearly 30 food and craft vendors showed up to support Ryan. One vendor was It's So Ranunculus who's owner, Leah O'Hearn, donated 100% of all sales to the foundation. Other community members held raffles, donated craft items and baked goods to raise funds.
The vendors and community enjoyed the opportunity to support Ryan and his family especially at an outdoor event where people could mingle despite a pandemic. In total, Team Ryan raised $7,638.65 in one week! Ryan's mom, Kasha Morris, was so moved by the support.
"We are so grateful to the East Hampton community for always showing up to support our family's quest to find treatments and a cure for children affected by this ultra rare disease," she said. "Because of them, we are able to fund researchers and make strides toward to gaining a better understanding of TANGO2 disease and offer help to families managing this disease."
To continue to support Team Ryan and the TANGO2 Research Foundation, please visit www.shinealightontango2.com.