This year, we had the most successful Giving Tuesday campaign we have ever had and we would like to THANK YOU for helping us raise over $16,000. These donations will go toward funding meritorious research projects for our third research grant cycle in 2023.
TANGO2 Research Foundation-funded projects are searching for ways to end the diagnostic odyssey for families like Hanna. And Hanna's story is exactly why our Foundation is committed to our mission.
For this year's campaign, Ben Mitchell, created a series of videos about Hanna to share with us. We are so appreciative to Ben, Hanna, Robin and Bob for lending their time and sharing their story. If you haven't seen them yet, click the links below to watch!
A special thank you message from the Mitchell Family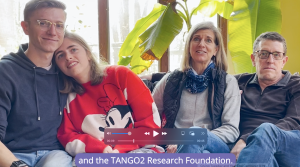 For other TANGO2 Research Foundation videos, go to https://www.youtube.com/@TANGO2ResearchFoundation/videos
To donate, go to tango2research.org/donate.