We are so pleased to share the success of Giorgio and Rashmi Pochettino's fundraiser in Italy! The Pochettinos, whose child Edoardo is affected by TANGO2 disease, raised $4,813 USD to benefit the work of the TANGO2 Research Foundation.
Held by PiGreco theater company, they offered their talent for TANGO2 and performed a comedy skit entitled "Intrighi sottoveste" for 200 guests. In addition, there was a special appearance and presentation by Doctors Giovanni Battista Ferrero and Alfredo Brusco and researcher Silvia Carestiano sharing the recent research status of their work.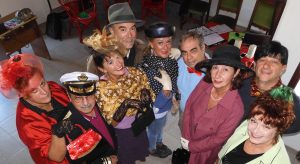 We would like to extend a special thank you to all the people made it possible: the guests, donors and PiGreco and the researchers.