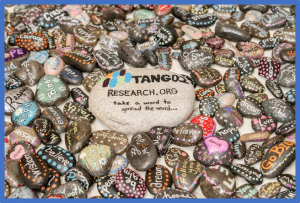 This month, friends and family of Ryan Morris held a successful fundraiser to honor his journey living with TANGO2 disease.
Ryan's aunts, uncles, cousins and friends rallied together and gathered donations to set up a booth at the first area Flea Market of the season.  Donations were collected from across eight different states that included toys, books, puzzles, household goods, and many unique items.
Hand painted awareness rocks with words of inspiration on one side and the TANGO2 Research Foundation website on the other were a huge hit!
The sale at Southern Dutchess Flea Market raised a total of $2,750 which included $1,500 from The Travelers Companies' matching gifts and volunteer grant rewards program. All proceeds go to the TANGO2 Research Foundation to lead the way in finding a cure for TANGO2 related disease.