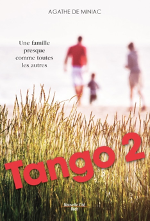 Our foundation interviewed Agathe De Miniac for our blog this month. Agathe wrote a book about her family being shaken up by the arrival of three disabled children. We are pleased to share this interview in both English and French below. Click for more information or to purchase the book.  
What are the names and ages of your children?
We have 5 children. Our eldest son is 21 years old and his name is Malo. Our oldest daughter is 17 years old and her name is Inès. Our daughters, Jeanne and Isabelle are 15 and 12 years old. Our youngest son, Lous is 6 years old.
Which of your children were diagnosed with TANGO2 disease and at what ages?
Malo was diagnosed with TANGO2 disease at 16 years old. Jeanne at 10 and Isabelle at 7. Our children were diagnosed by endocrinological researchers. Indeed, all 3 of them are hypothyroid. It was the doctor who follows our children in endocrinology who proposed to do research at the Necker Hospital in Paris. For 16 years, we thought that our children had thyroid issues and that all of their problems…intellectual, muscle, and fatigue were a consequence of hypothyroidism. 
Tell us about yourself.
I am 46 years old and have been married to Nicolas for 23 years. I am a college history teacher. We live in France, in Brittany. We are both from large families. I have three brothers and Nicolas has four brothers and a sister. We live in a big house in a small town of 10,000 people. We are fortunate to be surrounded by our friends and family.
Please give a summary of your book.
The book tells the story of my motherhood. It begins when Malo was born in 1999. I share everything I have experienced as a mom. Malo is mentally handicapped. I became aware of it as it grew. Then, his three sisters and his little brother were born. I talk about all the anxieties of seeing the disease develop in each of my children. Difficulties facing doctors, school, family, etc. I also question my faith in God. Did he want me to be the mother of three sick children?
What inspired you to write your book?
When Isabelle was 12 years old, her puberty started and she was showing worrying signs. She was tired and was losing intellectual capacity. The neuropsychological workup had an electric shock effect on me. I was deeply depressed. It was in this context that I began to write. I wanted to understand what was going on in my heart and in my head.
What was the most challenging part of writing your book?
I didn't find it difficult. I really enjoyed doing it. I also really enjoyed the exchanges with my relatives while writing the book. My husband Nicolas was first, but I also enjoyed the exchanges with my children, mother, and brothers. As I was writing the book, I discovered that I was not alone, that's when I discovered the existence of the TANGO2 Research Foundation site. It did me a lot of good. I felt like I discovered a new family around the world.
Are there any plans for your book to be translated into other languages?
Yes, the publishing house, Nouvelle Cité, which published my book, has started to connect with other publishing houses in different countries. I think the first translation will be in English. Indeed, many people affected by TANGO2 speak English.
What do you hope people will learn after reading your book?
I want people to understand that all life is good to live. There are long lives and there are short lives. I am very touched by the fertility of the lives of the TANGO2 children who have died. I am thinking in particular of Sammy, Jackson or the lovely little Elinore. The wound is very deep in their parents but despite this, these lives continue to bear fruit. They are not totally dead. They help us continue the adventure. I understood that it was possible for my children to have short lives. So I take full advantage of them. What is true for our TANGO2 children is universal. We should all be saying this to ourselves for those we love.
Entretien avec Agathe De Miniac
Quel est le nom et l'âge de vos enfants ?
Nous avons 5 enfants . L'ainé à 21 ans et se nomme Malo ( garçon). Inès (fille) a 17 ans . Jeanne(fille) a 15 ans, Isabelle( fille) 12 ans et Louis( garçon) 6 ans
Parmi vos enfants, lesquels ont été diagnostiqués Tango2, et à quel âge ?
Malo a été diagnostiqué Tango 2 à 16 ans, Jeanne à 10 ans et Isabelle à 7 ans. Nos enfants ont été diagnostiqués par des chercheurs endocrinologues. En effet, ils sont tous les 3 hypothyroïdés  C'est le médecin qui suit nos enfants en endocrinologie qui a proposé de faire des recherches à l'hôpital Necker de Paris. Pendant 16 ans , nous pensions que nos enfants avaient des soucis de thyroïde et que tous leurs problèmes (intellectuels/ musculaire/ de fatigue) étaient une conséquence de l'hypothyroïdie.
Parlez nous de vous.
J'ai 46 ans et je suis mariée à Nicolas depuis 23 ans. Je suis enseignante en histoire dans un collège. Nous habitons en France, en Bretagne. Nous sommes tous les deux issus de famille nombreuse. J'ai trois frères et Nicolas a 4 frères et une sœur. Nous habitons dans une grande maison dans une petite ville de 10 000 habitants. Nous avons la chance d'être bien entourés par nos amis et par notre famille.
Pouvez-vous résumer votre livre ?
Le livre raconte l'histoire de ma maternité. Il commence à la naissance de Malo en 1999. Je raconte tout ce que j'ai vécu en tant que Maman. Malo est handicapé mental. J'en ai pris conscience au fur et à mesure de sa croissance. Puis sont nés ses 3 sœurs et son petit frère. Je raconte toutes les angoisses de voir se développer la maladie chez chacun de mes enfants. Les difficultés face aux médecins, à l'école , à la famille. J'interroge aussi ma foi en Dieu . A-t-il voulu que je sois maman de 3 enfants malades ? Je raconte aussi la place qu'a prise mon mari Nicolas…
Qu'est-ce qui vous a inspiré pour écrire votre livre ?
Isabelle lorsqu'elle a eu 12 ans et que sa puberté a commencé, montrait des signes inquiétants. Elle était fatiguée et perdait des capacités intellectuelles. Le bilan neuropsychologique a eu l'effet d'un electrochoc sur moi. J'ai été profondément déprimé. C'est dans ce contexte que j'ai commencé à écrire. Je voulais comprendre ce qui se passait dans mon cœur et dans ma tête.
Quelle a été la partie la plus difficile dans l'écriture de votre livre?
Je n'ai pas trouvé cela difficile. J'ai beaucoup aimé le faire. J'ai aussi beaucoup aimé les échanges avec mes proches autour de l'écriture du livre. Nicolas en premier mais aussi mes enfants, ma mère, mes frères … Au fur et à mesure de l'écriture du livre, j'ai découvert que je n'étais pas seule, c'est à ce moment là que j'ai découvert l'existence du site Tango2 Research. Cela m'a fait beaucoup de bien. J'ai eu l'impression de découvrir une nouvelle famille à l'échelle du monde entier.
Est-il prévu de traduire votre livre dans des langues étrangères ?
Oui, la maison d'édition, Nouvelle Cité, qui a publié mon livre, a commencé à se mettre en relation avec d'autres maisons d'édition dans différents pays. Je pense que la première traduction se fera en anglais. En effet, de nombreuses personnes touchées par Tango2 parlent anglais.
Qu'espérez-vous que les gens apprennent en lisant votre livre?
Je voudrais que les gens comprennent que toute vie est belle à vivre. Il y a des vies longues et des vies courtes. Je suis très touchée par la fécondité des vies des enfants Tango2 qui sont morts. Je pense notamment à Sammy ,Jackson ou la si jolie petite Elinore. La blessure est très vive chez leurs parents mais malgré cela , ces vies continuent à donner du fruit. Ils ne sont pas totalement morts. Ils nous aident à poursuivre l'aventure. J'ai compris qu'il était possible que mes enfants aient des vies courtes. Alors je profite à fond d'eux. Ce qui est vrai pour nos enfants Tango2 est universel. Nous devrions tous nous dire cela pour ceux que nous aimons.